I Voted! Student Election
Kids Voting
Experience elections with GenerationNation's Student Election!
Still known to many as Kids Voting, the student election program of GenerationNation offers K-12 students opportunities to learn about and get involved in elections each year though a mock vote, service-learning in polling places, student council elections, teacher curriculum and more. Since the program was launched in Charlotte in 1992, hundreds of thousands of students have participated.
Charlotte-Mecklenburg area
Every year, each student has the exciting opportunity to experience elections! Students in kindergarten through high school participate in a variety of ways, including:
Learning about candidates, issues, and democracy
Casting a student vote
Visiting and volunteering in community polling sites on Election Day and during early voting
Partnering with a school or youth organization to operate a student voting booth – a great service-learning opportunity!
Election results are counted and shared after Election Day.
Cities and school districts in other areas
GenerationNation's programs are available to all teachers and students in any location. Contact us to learn how to involve your school or youth program in GenerationNation and the student election!
Partners
Charlotte-Mecklenburg Schools
Charter, independent, religious and home schools
Mecklenburg County Board of Elections
Other organizations
Election 2019 Toolkit – Coming Soon!

Election 2019 Vote!
On the 2019 ballot
Mayor (Charlotte and towns)
Board of Education
Sales Tax Referendum
CMS School Board Student Advisor
Student Election 2019
Vote online, by text, or at school October 22-November 5
Service-learning October 22-November 5

Teacher and school information coming soon!
Curriculum and Candidate information
Election 2018 Vote!
Ways to vote in Election 2018
Vote October 25-November 6 online, text, and at school
       Vote Now Online
At school – ask your teacher or principal about your school's election!
teachers: this ballot is for 1:1 devices. Find school ballot versions and instructions HERE
VOTE IN PERSON October 27, October 31, November 3, and November 6
At a GenerationNation voting booth in a library or polling place on 10/27, 10/31, 11/3, and 11/6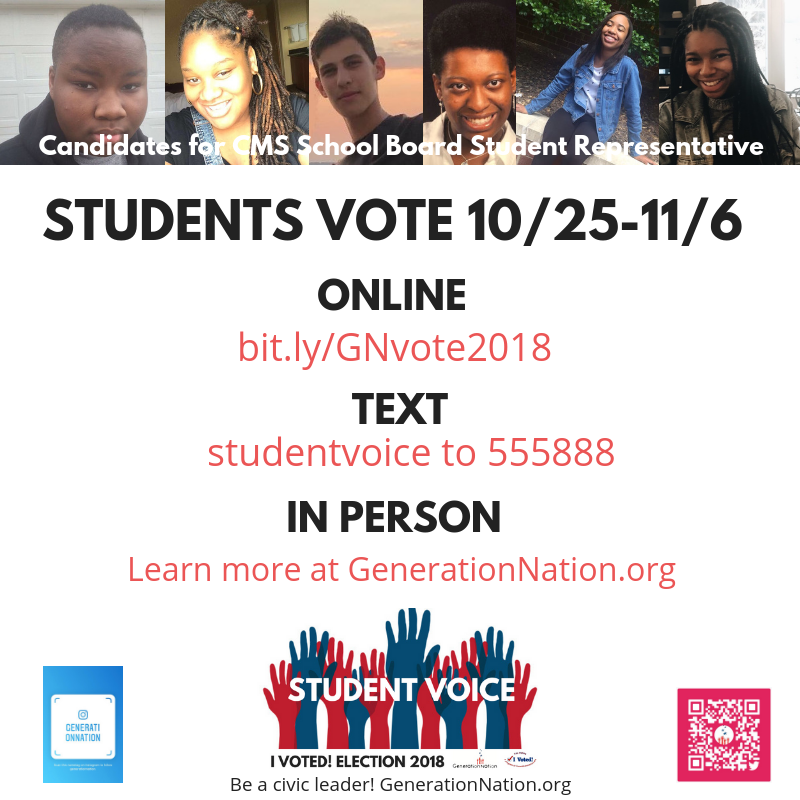 Teacher information
#Election2018: K-12 Lessons, Resources, and Activities
Election 2018 Resource Toolkit

Lesson plans for grades K-12, strategies for integrating real world content into existing lesson plans, and alignment guides for different content areas
Educational resources including guides, Election 2018 Jigsaw and Rate the Candidates Decision-Making Charts, and more.
Student Election – Election 2018 (October 25-November 6, 2018). On the ballot: US House, County Commission, City Referendum, NC Constitutional Amendment, Student School Board Rep
Ballot questions geared for different grade levels – younger students focus on one question

Voting options

Online
Text
Paper ballots (limited quantity)
At school
At designated polling places
At home

After the vote – civic literacy and action beyond Election Day
Sign up for school ballots, I Voted stickers, and info
Teacher instructions for election 2018 voting activity
Service Opportunities
GenerationNation is recruiting volunteer captains to lead student voting stations during Election 2018. The mock election enables thousands of K-12 students to cast their own votes every year. To make this hands-on experience a good one for students, GenerationNation needs your help! This is a GREAT activity for students, PTAs, businesses, retirees, church groups, afterschool youth programs, civic organizations, etc.
Student Council Elections
Let us host your next student council election.
Contact us
for more information.