Want to help develop a new generation of civic leaders?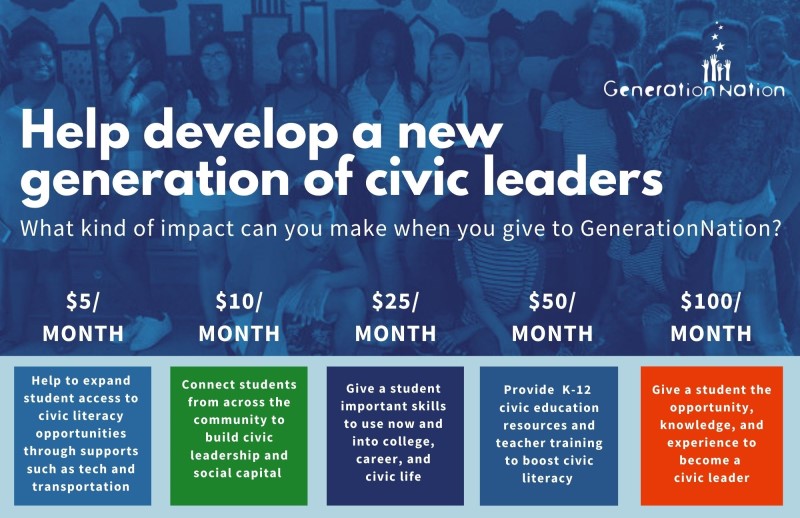 Support GenerationNation. You'll help students to become informed and engaged leaders who know first-hand how their governments and communities work, understand civic issues and different points of view, can intelligently use news and information, are ready to take an active role in civic problem-solving. GenerationNation students are a diverse network of young civic leaders.
Why does it matter?
Today's students will become the leaders of our neighborhoods, schools, businesses, communities and nation. What, and how, they learn now matters. Current events, education trends, and learning opportunity gaps make GenerationNation's mission and work more important than ever.
Give every student the opportunity to be a civic leader
By making a financial donation to GenerationNation, you can help to ensure that all students have the opportunity to gain the knowledge and experience they need to become informed, engaged, and effective civic leaders.
About Generation Nation
GenerationNation, a Charlotte 501c3 nonprofit, is innovative and efficient with strong strategic partnerships and a 25-year track record of success. Launched in 1992 as a mock election event called Kids Voting, GenerationNation now works year-round through expanded programming for greater student civic and educational impact.
GenerationNation is funded through grants, corporate and business sponsorships, individual gifts and in-kind donations. GenerationNation is not a United Way or Arts and Science Council agency or funded by a state or national organization. Over 90% of contributed funds support GenerationNation programs. Contributions are tax-deductible as allowable by law. Contact us for a copy of our IRS 501c3 nonprofit information.
By Mail
GenerationNation
P.O. Box 31365
Charlotte, NC 28231
Underwriting & Sponsorship
Great opportunities available to meet your philanthropic, marketing or community relations goals – 
contact Amy Farrell
 to learn more