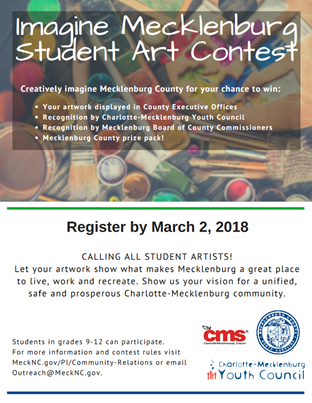 ​Mecklenburg County, in partnership with the Charlotte-Mecklenburg Youth Council and Charlotte-Mecklenburg Schools, invites all 9th through 12th graders to participate in the inaugural Imagine Mecklenburg Student Art Contest.  Imagine Mecklenburg fosters creativity by providing young artists of all skill levels an opportunity to exhibit their works publicly.
The Charlotte-Mecklenburg Youth Council (CMYC) is the official youth advisory council for City of Charlotte, Mecklenburg County, Charlotte-Mecklenburg Schools and the community at large, and is a program of K-12 civic leadership education organization GenerationNation. CMYC students work closely with County leadership to help solve civic challenges. Engaging with youth also means imagining our community's future together. This art contest gives students the opportunity to imagine Mecklenburg County's possibilities. Each submission should answer one of the following questions:
What makes Mecklenburg County a great place to live, work and recreate?
What is your vision for a unified, safe and prosperous Charlotte and Mecklenburg County?
Artwork should reflect the diversity and interests of the entire community. Perhaps your vision is based on your favorite place in Mecklenburg County like a park or your school, or perhaps it's your family that makes Mecklenburg County a great place to grow up. Whether it be by paintbrush, pencil or photography, we want to know your vision. Remember to keep your submission clean, and creative. Remember to have fun!
All eligible artists should submit their work by March 2. Contest registration and rules can be found at https://www.mecknc.gov/news/Pages/Art-Contest.aspx